Home
Old News
Contact
This site is best viewed in 1024x768x16bit or better w/Netscape Communicator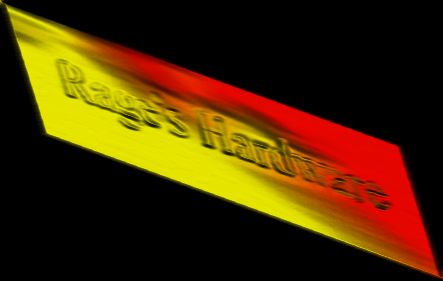 VIDEO CARD BENCHMARK PAGE

Test system

6x86 Pr200

32 megabytes 60ns EDO (2x16)

AOpen AX5T-3.1

Oak Warp 5 209a , 4megs

STB Velocity 128 , 4megs

S3 Trio 64V2 , 1 meg

2.1 gig Samsung EIDE

2D tests were run on 800x600x16 because S3 had only 1 meg RAM.

DirectDraw performance - This uses the direct draw tests found in Winbench 98. In order to obtain DirectMarks , I averaged the results of 9 tests (BLTSize 256,1024,4096;Animate8bit,16bit,32bit;Animate640x480,800x600,1024x768) and compared each cards score to that of the RIVA. DirectMark is how much percent of RIVA performance the card gives.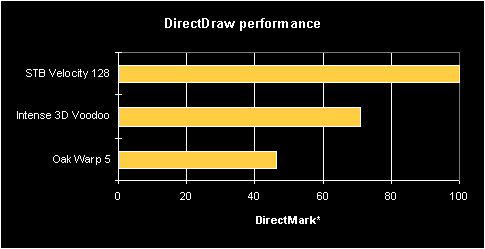 | | | |
| --- | --- | --- |
| Oak Warp 5 - As you can see , the Oak's 2D performance isn't all that. It doesnt even score a 50 on DirectMark , making it a weak DirectDraw card. | Intense 3D Voodoo - the Alliance chipset performs quite well in DirectDraw , scoring ~71% of RIVA performance. (Note that the RIVA is a DirectDraw 'god' , and 71% of this is damn good! | Velocity 128 - The King of DirectDraw. (period) No card comes close. (Dont even mention the Mill2 , it's DDraw is pitifull (it would probably score a 53 or something) |
2D Speedmark - This old benchmark which came with my old hercules dynamite power tests raw 2D power. The tests preformed are ScrtoScr , MemtoScr , Ternary ROPS , Fonts , Vectors (styled/filled) , and PolyFill (Hatched/solid color). The Score is an average in Kpixels/sec. (This benchmark needs replacing...don't worry , soon we will have some REAL 2D benchmarks!)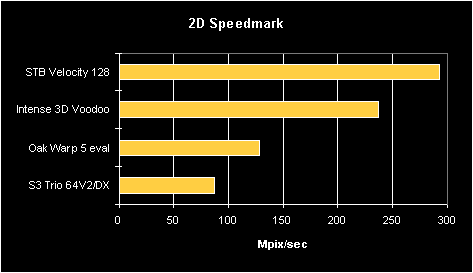 S3 Trio64/V2 DX - I have included this card mearly for comparision purposes. This is the standard card found in many low-end and even in a few average priced PC's.

Intense 3D Voodoo - Based on the Alliance Promotion AT25 128bit 2D graphic accelerator , this Voodoo Rush based board performs quite well in 2D Speedmark. (236.72) The 128bit datapath really helps in these tests.

Oak Warp 5 - As you can see , this card does outpreform the average/low-end S3 significantly , however it is no match for...
(128.38)
Velocity 128 - The Ultimate powerhouse proves itself once again. Scoring an amazing 292.67Kpix/sec! The blazing SGRAM and high powered RIVA chip show off here.
Final Reality Benchmark 1.0 - This is one of the coolest benchmarks available. Watching this one is actually fun!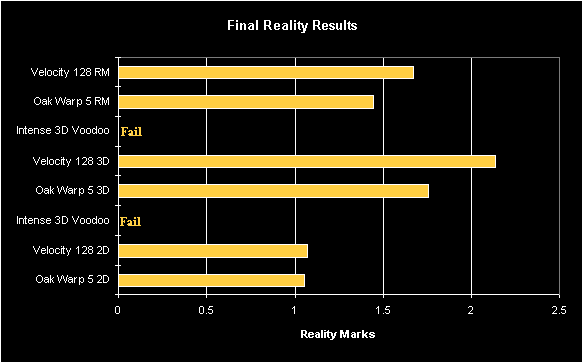 | | |
| --- | --- |
| Oak Warp 5 - The Warp 5 processor seems to handle this benchmark a little better than the previous. Though the 3D preformance still isn't quite up to par , the image quality is better and the 2D is almost the same. [ 2D-1.05 , 3D-1.76 , Total-1.45] | Velocity 128 - Once again , the RIVA card comes out on top. Scoring an amazing 2.14 in 3D! The image quality isn't as nice though , mostly due to the anti-alaising. [2D-1.07 , 3D-2.14 , Total - 1.67] Also , the Velocity didn't quite like the 2D here. |
| Intense 3D Voodoo - for some reason , this card kept failing the tests. I dont know why (?) Actually , it did complete the 2D test with a 1.06. | |
3D Turok Demo (FPS) - Who cares if a video card can preform in benchmarks if it can't preform in real life tests. (Rage Pro...) The results here were obtained by typing turokdemo -benchmark. Tests were run in 800x600 and 640x480 , all supported features turned on for both cards.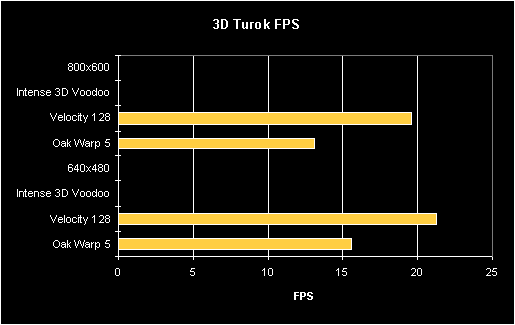 Oak Warp 5 - The Warp 5 isn't that slow , at least not according to Turok. 15.6fps at 640x480 with a 6x86 isn't slow at all , as a matter of fact , it is pretty fast! Also , Turok was playable at 800x600 running at 13.2fps. Even though these numbers aren't as fast as the RIVA , the image quality of the Oak makes up for its lack of speed.

Intense 3D Voodoo - As you can see , I have not posted scores for the Intense 3D Voodoo. There are 2 reasons. First of all , the version included with the card worked , however , I did not know how to benchmark using it. (-benchmark , -tmark , they didnt work , if anyone knows how , please e-mail me.) The game was very playable though , even in 800x600.

Velocity 128 - As you can see once again , the Velocity 128 is definately the choice for Direct3D. On 640x480 Turok ran in excess of 21 frames while in 800x600 Turok raced at a pace of 19.6fps. If only the Velocity 128 had the Oak's image quality , choosing a video card would not be as difficult as it is today. Unfortunately , this is not the case...
Image Quality Comparision - I have added this section at the request of a viewer. It is pretty much self explanitory. NOTICE: JPG format is compressed using 20% (since not everyone has a cable modem :) This causes image degradation. Snapshots were taken at 800x600.


Oak Warp 5 - The Oak's image quality is damn near perfect. It puts even the Voodoo's image quality to shame with its perfect anti-alaising and automatic tri-linear filtering. (The Green sky is becuase of gamma correction...) NOTE: I have received numerous e-mails from 3dfx lovers :) that the Oak's image quality sucks because the image looks 'washed out' , or 'too smooth' Please note that the Oak allows you to choose the filtering method you prefer. If you do not like the 'too smooth' Warp images , just select binary filtering instead of tri-linear , if you really want...BTW , I dont have a comparision of both due to space limitations at tripod.

Intense 3D Voodoo - The supposedly perfect image quality of the 3dfx is pitiful compared to the Oak. It still wipes the floor from underneath the RIVA. The lack of REAL anti-alaising is the major cause for its inferiority to the Oak in image quality. BTW..the Voodoo has great image quality , just not as good as the Warp (in my opinion)

Velocity 128 - The Velocity's image is nowhere near that of the Oak. It lacks quality anti-alaising and the filtering isn't great. Also , when moving around you can see the textures changing...