Home
Old News
Contact
This site is best viewed in 1024x768x16bit or better w/Netscape Communicator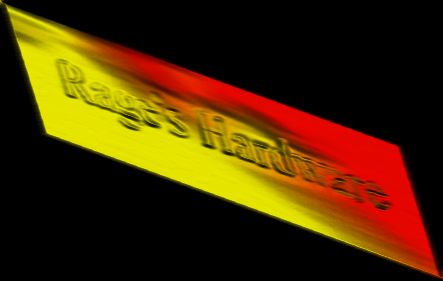 OLD NEWS - Feb 7th 1998
Hi once again. Sorry for the lack of updates yesterday , however I was away from a computer from 6am - 11pm , so I really didn't have any time. However , I will make up for this today. Here is what is coming today , guaranteed!

(1) Outlaw 3D review (preliminary)
(2) New Benchmark page consisting of
(a) 4 Video cards (Warp 5 , Velocity 128 , Outlaw 3D , Intergraph Intense 3D Voodoo)
(b) DirectDraw , 2D Speedmark , Turok , Quake(2) , Final Reality , and Image quality comparisons
(c) A New look
(3) Re-review of STB Velocity 128 with Beta OpenGL drivers.

I promise that all of the above WILL be up by today! I will upload portion at a time , so that you can view one part while you wait for the rest. Once again I apologize for the lack of updates.
Hi! I have some good and bad news for you all. First the good news... I downloaded the Beta drivers for the Velocity 128 and they do offer a significant increase in speed. In Quake2 , using 5mb of RAM texture memory , the drivers yielded 9.1fps (640x480 , high quality sound , highest quality everything...) This may not seem like much , however , the RIVA is a very CPU-dependent card (These results on a 6x86Lpr200) and this is a pretty big improvement over the previous 7.6fps. Click here for the updated review.
The BAD news... Well , to put it in simplest terms , the Outlaw 3D won't work properly. It gives protection errors (Windows protection error , you need to restart...) and causes another problem which will not allow me to switch the video mode. If anyone is experiencing these problems (or similar) please e-mail me. It may have to do with the fact that I am using a Cyrix chip.. (100% compatibility?) Anyway , I am working on these problems and I will keep you posted.
More to come today , so keep visiting ...
New benchmark page (added DirectDraw and Quake2 performance , Intergraph Intense 3D results)
Also , A site change is in the midst... possible tomorrow...
THE NEW BENCHMARK PAGE IS HERE!
OLD NEWS - Feb 5th-6th 1998
Hi. A few updates for you before I post the preliminary review of the Intense 3D Pro Voodoo. First of all , my contact at Oak tech. emailed me today and informed me that Metabyte (www.metabyte.com) will still be actively marketing its Warp 5 based Wicked 3D. This means that the Warp 5 chip will make its way to the market!
RIVA OpenGL **BETA** drivers were released. I will get my hands on these drivers sometime very soon and right an updated review of the Velocity 128 as soon as I get this Intense 3D Voodoo review uploaded. (The review WILL BE UP by today)
The Intense 3D Voodoo review is up! Expect a benhcmark page update with Intense 3D Voodoo scores as well as DirectDraw benchmarks , Quake2 benchmarks , and more!
It looks as if this site is about to move from tripod sometime soon..Finally , the dreaded Pop-up window...gone! As you can see by the sloppy News header , I have NO time right now , but expect those benchmarks of the Intense along with a new benchmarks tests for all the cards.
OLD NEWS - Feb 4th 1998
Intergraph Intense 3D Voodoo has arrived! This time , I was there to pick it up :) So far , the board has installed flawlessly , and the performance (especially 2D) is better than I expected. Expect a review and benchmarks real soon!
OLD NEWS - Feb 3rd 1998
Today , I promise that some of the CPU page will be up (if not all)!!
The Intergraph Intense 3D Voodoo arrived today , unfortunately , I was not there to pick it up. It will be here tomorrow , so expect a review very soon.
Updated links section. Added a link to www.benchmarkresources.com and www.capacityplanning.com
It's here , the CPU glimpses page. Expect more of it up tommorow , along with a glimpse of the Intergraph Intense 3D Voodoo , w/a full review to follow.
OLD NEWS - Feb 2nd 1998
Once again , I have to bore you with these lame excuses...So I will spare you this time :)
However , I have just received news that I will be receiving an Intense 3D Voodoo board for review. Expect a review of this very soon! Sorry for the lack of updates , however , I have been very busy this week. Hopefully I will manage to get at least part of the new CPU page up today. Thank you for your patience and please don't give up on me :)
OLD NEWS - Feb 1st 1998
Hi again. Today I will be working on more video card reviews , getting the CPU glimpses page up , and uploading some more little things such as the Cable modem guide etc. Most of these should be done by today.
LATEST - added more graphics and pumped up the site a little :) It keeps getting better and better , and it won't stop here :)
Yes , I have updated the site even more! I changed the nav bar and added moer graphics. CPU page is coming!! (with more updated info , of course) , check it out by the end of the day.
Oh yeah...i have received emails tellimg me some of the Nav bar items don't work. I am aware of that , just I haven't finished porting everything over from the old version yet. Please be patient , a new page (or more than one) is going up every day!

Right now im going to eat , and then get back to work :)
OLD NEWS - Jan 31st 1998
Just letting you know that Im working :) Expect Links section up as well as some Glimpses. Hopefully I will begin some storage and monitor reviews sometime soon.
Come back in an hour or so to see some new stuff (hopefully :) Also , I hope you noticed that I added little notes above. These notes will not be archived into the Old News section , so bookmark the stuff you wanna see again and come back tomorrow for more "points of interest"
I added the links page. If you want your page added , e-mail me! Also , the Old News page is up. I am taking a short break now , however expect some glimpses up by the end of today. (I will be 'porting' some of the old pages to the new format)
The new Graphic Card Glimpses page is up. Check it out here. This new page includes 10 all new reviews of 2D/3D graphic accelerators (not finished yet , will be by tomorrow at the latest) plus Voodoo 2 & Highlander (PMX , next PowerVR) information!
OLD JOKE - Jan 31st 1998
"What's the difference between a Porcupine and a Porsche?
- The Porsche has its pricks inside..."
OLD NEWS - Jan 30th 1998
UPDATED - The Motherboard page is now operational! Check it out , along with the NEW AOpen AX5T-3.1 review!
OLD JOKE - Jan 30th 1998
"Save a Tree , kill a beaver"